Staff Members
Transitional Pastor – Rev. Jesse McDonald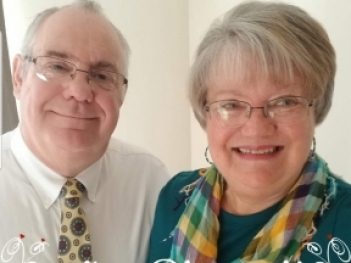 Being a pastor's son and being raised in the church since birth the Lord and savior dealt with me at a very young age and I made a commitment to him as a child. My desire in my youth was always to please God and to learn and understand the scriptures. As a young teenager I strayed and followed my friends not as concerned with my spiritual life. But as a young man again the Lord dealt with my soul and drew me back to himself and the call of ministry came very strong upon my life. I was called to the ministry as I was in my freshman year at Lee college in Cleveland Tennessee.
Although my education has been in graphic design, drafting and business, (I am an ordained minister with EPC and I have been involved in ministry most of my life). My ministry has been in Evangelism and is now in Transitional. In total I have pastored for 26 years. I worked as a Transitional pastor when I was a young pastor and I have been working as Transitional pastor for EPC for the last 3 years.
In the last 10 years prior, I have preached at Baptist, Salvation Army, Pentecostal and EPC Presbyterian churches as a pulpit fill or evangelist, and God has given me open doors in these platforms. My wife Beth is also multi-skilled in transitional work. She has a master's degree in Early Childhood Education. We work completely as team in every facet of ministry. In many ways your church would be getting two for one.
Visitation and working with people on a personal basis are the things I love to do. I am an out going person and a missional pastor. It is my heart to reach the community and the culture of the community where I serve.
I agree with the Westminster confession and follow it as, The true interpretation of God's Holy Word without reservation. I have a heart and compassion for ministry, and zealous to win souls for the gospel of Jesus Christ our Lord.
Pastor of Congregational Care – Darcy Miller
Darcy was born and raised in Walnut Creek attended the University of Akron and worked as a Registered Dietitian for many years. While washing dishes during a church luncheon a spiritual brother challenged her to test if God was calling her into full time Christian Ministry. After a season of deep prayer and reflection, Darcy heard God calling her to get ready to take care of God's people. At the age of 37, Darcy entered Ashland Theological Seminary, where she earned a Master of Divinity. God moved Darcy to West Virginia to serve in the Mennonite Central Committee SWAP program for two summers and then to Northeast Pennsylvania to serve three rural churches before calling her back to "the land of her fathers'" in Holmes and Tuscarawas County. Darcy founded Life Connect coaching in fall 2012 with a passion to help people discover their life purposes and walk in them throughout the changing seasons of their lives. Pastor Darcy Miller enjoys sharing the truth of God's word in creative ways that helps the learner to immediately apply the lessons to their lives.
Director of Family Ministries – Jon Hutchison

We are pleased to announce the hiring of Jon Hutchison to fill the part-time position of Director of Family Ministries. Jon has been in full-time ministry for over twenty years having served in both Associate Pastor (responsible for youth & young adults) and Senior Pastor positions. He holds a Masters in Christian Leadership & Ministries from Indiana Wesleyan University and a Masters in Practical Theology from the Methodist School of Theology (Delaware, OH). His most recent positions have been with Mt. Tabor Un. Meth. Ch. in East Canton and Wooster UMC. Jon and his wife, Heather, have 4 children–Isaiah, Naomi, Levi and Micah. They consider the Wooster area home and are excited to be moving back to Wayne Co.
Church Secretary – Jeann Burkey
Jeann has been a member of Fredericksburg Presbyterian Church since 1992, and has served as church secretary since 1998. Although Jeann's college degree was in the Natural Resources, she finds that working with the people who visit her office fits more closely with the call God has placed on her life. When not busy fulfilling her secretarial duties, Jeann spends time with her camera capturing shots of scenic Ohio. Jeann and her husband Larry live in Apple Creek, Ohio and enjoy hiking, picnicking and spending time with their grandchildren.
Church Custodian – Dean Corrigan