Staff Members

Transitional Pastor – Rev. Nancy Dumford
Hello FPC Community,
I arrived this morning, 10 AM, as leaves were falling and a single horse-drawn buggy passed by me on Fredericksburg Road. It's likely that my "new" eyes are taking note of all the things that fade into the background for you long-timers. I'm thrilled to be here! It's Tuesday, November 1 – All Saints Day.
In modern times the term "saint" is rarely used, reserved for missionaries, martyrs, the deceased, and super-star Christians. In reality, that is our position everyday as believers belonging to Christ. In Christ, we have been saved, set-apart, and made evermore holy on a winding path to greater Christlikeness. Take heart, the Holy Spirit helps us and our "saint status" is secure. We cannot by our goodness earn more grace and we cannot in our weakness lose the grace by which we stand. So, hello saints, at FPC!
Bryan and I will join you this Sunday and plan to move into the FPC manse on Saturday, November 12. I will typically be here Saturday through Wednesday, and available to adjust days as needed. Bryan works at JPMorgan Chase in Columbus and will be able to spend several nights here each week. This is our second "out-of-town" call, so we know this routine.
We have been married for 30 years. We have three grown kids, two of which are newly-married, and one will be soon. I was not expecting to become a pastor. I started out as a high school math teacher, stay-at-home mom, children's ministry director, then Christian school administrator. When I began studying at Ashland Theological Seminary, I had no illusion that I would finish, I was just trying to get God to stop "nudging" me. Somewhere between the beginning and the ending (8 years in all) I emerged as a pastor. Lucky for you, I'm no longer a first-year pastor. Shout out to Carlisle Community Church for surviving that!
All in all, I anticipate good days ahead. Our God is so faithful, he has not forsaken or forgotten any one of us! Let me end with the verse that got me through those early years of seminary… The one who calls you is faithful, and he will do it (1 Thes. 5:24).
With Great Grace,
Nancy
Church Secretary – Jeann Burkey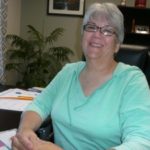 Jeann has been a member of Fredericksburg Presbyterian Church since 1992, and has served as church secretary since 1998. Although Jeann's college degree was in the Natural Resources, she finds that working with the people who visit her office fits more closely with the call God has placed on her life. When not busy fulfilling her secretarial duties, Jeann spends time with her camera capturing shots of scenic Ohio. Jeann and her husband Larry live in Apple Creek, Ohio and enjoy hiking, picnicking and spending time with their grandchildren.
Church Custodian – Dean Corrigan